Follow Your Favorites!
Sign in
to get custom notifications of new products!

Featured Product
Biological Indestructible Tactical Combat Hybrid Squad VOL#1
by C.O.M.I.C.S. INC.

B.I.T.C.H. Squad Trade Paperback 175 Pages
is the story of a group of teens who have been genetically re-engineered by a secret government agency without their consent, and what they do after they discover what has been done to them. If you like Alien super soldier government conspiracy action with a bit of an anime feel, you're sure to enjoy B.I.T.C.H. Squad!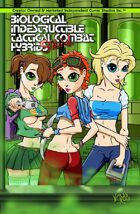 | Products found in this section... | Sort by: |
| --- | --- |
| | | |
| --- | --- | --- |
| Title | Publisher | Price |
| JUSTICE GOES HEAD-TO-HEAD!  Judge Death has crossed dimensions to Gotham City and Judge Dredd is in pursuit! However, this is the home turf of a certain caped vigilante – the Batman. Two very different brands of uncompromising justice are destined to clash! Stories include: BATMAN/JUDGE DREDD: JUDGEMENT ON GOTHAM BATMAN/JUDGE DREDD: VENDETTA IN GOTHAM This digital edition... [click here for more] | Rebellion Publishing Ltd | $6.99 |
| Amidst the sacred Native lands in the Black Hills, a dark alliance rooted in in the dim past is engaged in the looting of legendary artefacts, threatening the return of a star-spawned evil. Jason Redquill and his team battle the eerie Owl Prophet and the deadly Catamount in a terrifying struggle of myth, deception and the quest for an unfathomable power! In this never-before published action epic,... [click here for more] | AAM Markosia | $14.99 $7.99 |
| Kayfabe is back with a second anthology filled with pro wrestling comic goodness. Some of the same "competitors" have returned for this volume, but we also have plenty of "rookie superstars" that have stepped up to the challenge. ... [click here for more] | Kayfabe Anthology | $6.00 |
| In our world, there are teams of Crystal Hunters, agents of the mysterious organization Syn. We call them… player characters. They seek to collect the ancient Crystals, which give incredible, inexplicable powers! Only if they roll well on their Crystal Channeling skill. But in order to harness these powers, a person must sacrifice something dear indeed: their own heart. Also,... [click here for more] | Up to Four Players | Pay What You Want |
| Mr. Mystic's Mystical Comics collects the first 5 newspaper chapters of Will Eisner's original superpowered hero. 100 Big Pages of supernatural thrills and chills! Also included are several magical tales from classic comics including: *Witch's Way *The Whirlpool *Moon Magic *The Valcourt Ring *Evil Essence *Beyond The Door Of Death *The Mystery Ships *Beliefs About Ghosts *The Striped... [click here for more] | Mini-Komix | $0.99 $0.79 |
| This is the first installment of the series of graphic novels based on the daily comic strip, Evil Inc. This is not simply a collection of comic strips. Rather, I take the individual panels of the strips and lay out a continuous graphic novel. Since I do a storyline-driven comic, it reads smoothly from cover to cover, and since it's based on a daily humor strip, reading it in one volume... [click here for more] | Evil Inc comics | $4.99 |
| The Radical Red Demon collects the entire adventures of the original dark defender of comics! This Golden Age superhero is in reality Judge Straight, but when criminals slip through the cracks of justice he dons the daredevil disguise of Red Demon. All four chapters of Harvey Comics' masked man, and for the first time in color!... [click here for more] | Mini-Komix | $2.00 $0.75 |
| The saga continues, celebrating the 25th anniversary of WITCHBLADE! In this second absolute collection of the bestselling original series, New York cop Sara Pezzini falls further down the supernatural rabbit hole of ancient artifacts, illuminati industrialists, and all manner of occult outlaws. But while the mysterious power of the Witchblade has chosen Sara as its bearer, she's less convinced of... [click here for more] | Top Cow | $29.99 $23.99 |
| Down Under Wonders is a collection of Australian comic book heroes from the Golden Age! This includes the very first Captain Atom, Jet Fury, Phantom Ranger, Devil Doone, plus Catman & Kit! Awesome adventures from Australia! 100 Big Pages!... [click here for more] | Mini-Komix | $0.99 $0.79 |
| This first collection of the bestselling series created by MARC SILVESTRI, DAVID WOHL, BRIAN HABERLIN, and MICHAEL TURNER equips streetwise cop Sara Pezzini with the mysterious Witchblade, a weapon of prehistoric origin and untold power. As the artifact's bearer, Sara goes toe to toe with a Machiavellian industrialist, supernatural serial killers, and far worse, as the supernatural underworld of... [click here for more] | Top Cow | $23.99 $19.99 |
| Admonishing Stories are dark vintage comics of horror, sci-fi, fantasy, superheroes, and cultism. Vampires escape from The Asylum, Hell Rider begins his crusade, The Joke breaks the atomic age, a gory gardener cuts into Flowering Death, undertakers undermine in Crypts And Graves, The Wild Bunch hits the road, dive into The Secret Files Of Dr. Drew, learn the history of The Vampire Hunters, Of Sudden... [click here for more] | Mini-Komix | $0.99 $0.79 |
| Cabaret Comics is a bubbly bundle of bizarre burlesque! Golden Age comic strips of showgirls, strippers, chorus dancers, cigarette girls, models, torch singers, and other cartoon cuties both on and behind the stage! 100 Big Pages of fast fetching females!... [click here for more] | Mini-Komix | $3.00 $0.99 |
| Aces & Angels has some of the best Golden Age heroes in the history of comics! Starring Captain Midnight, Nyoka the Jungle Girl, Star Pirate, Val Storm, Captain Comet: Space Ranger, Kitty Carson, Mysta of the Moon, Kaanga, Gara the Jungle Man, and Captain Terry Thunder! 100 Big Pages of space sagas, wild west, jungle action, air raiders, undersea terrors, and mystery men!... [click here for more] | Mini-Komix | $0.99 $0.79 |
| Teenage heartthrob. Feral social icon. Dinosaur hunter. Born and raised on an uncharted island full of prehistoric dangers, Kevin Sauvage has a taste of home when a mutant dino threat invades England! From the mad minds of international superstar Max Bemis (Moon Knight) and powerhouse artist Nathan Stockman (Spidey) comes the craziest action book of 2020. Collects SAVAGE (2020) #1–4. Intended... [click here for more] | Valiant Comics | $14.99 $11.99 |
| Krusader Komix is fearless famous fanzine heroes from the Golden Age of underground comics! The 60s were the dawn of Ama-Heroes, original amateur heroes made for fans, by fans. Starring Xal-Kor the Human Cat, White Canary, Goodguy, The Defender, Martin Grimm, Sorcerer's Apprentice, The Eclipse, Thunderbunny, Matrix, Space Guardian, Doctor Weird, and The Eye! 124 pages of rare original superheroes!... [click here for more] | Mini-Komix | $0.99 $0.69 |
| BLOODSHOT hit the silver screen and streaming in 2020! Experience the hit series that debuted Valiant's nanite-enhanced commando with this essential standalone volume! Killed in action, soldier Ray Garrison is brought back from the dead by Project Rising Spirit, a private military contractor trafficking in violence. Infused with cutting-edge nanotechnology, Bloodshot's nanites make him a nearly... [click here for more] | Valiant Comics | $16.99 |
| British Sci-Fi Comics collects science-fiction funnies from across the pond. Golden and Silver Age all-stars like Captain Future, Space Commander Kerry, Red Avenger, Space Pilot, Captain Condor, and the Spacetroopers! 100 Big Pages of hi-tech futuristic fun!... [click here for more] | Mini-Komix | $0.99 $0.79 |
| Celebrating the 25th anniversary of Image Comics and the 20th anniversary of The Darkness, this special volume collects: The Darkness Origins (Issues One through Six and Preview) The Darkness/Batman The Darkness/Superman This is a digital version of the one-time printing in honor of the anniversaries, so don't miss out! Intended for readers 17+ ... [click here for more] | Top Cow | $14.99 $11.99 |
| Octobriana is The First Russian Superheroine! Originally introduced as a European fanzine character, the time-traveler was brought into the world of Russian underground comics as a radioactive immortal with super strength that battles invading hordes, giant monsters, and the forces of oppression! This Silver Age siren is living proof that you don't come between an amazon and her cola!... [click here for more] | Mini-Komix | $0.99 |
| On 29th August 1981, the Daily Star newspaper ran the first ever Saturday Judge Dredd comic strip. It was an instant hit amongst the five million Daily Starreaders, and was a critical success as well, winning Comics Adventure Strip Cartoon of the Year from the Cartoonists' Club of Great Britain. All of these glorious Saturday stories are collected here, along with the first two... [click here for more] | Rebellion Publishing Ltd | $12.99 |
| Super Soldier Stories is a collection of classic comics starring patriotic protectors. Golden Age superheroes who fight for American freedom. Starring V-Man, V-Boys, Minute Man, Miss America, Flag Man, Rusty, Super-American, Pat Patriot, Man Of War, Spy Smasher, Miss Victory, The Eagle and Buddy the Daredevil Boy! They fight Nazis, supervillains, masterminds, spies, robots, and more! 88 pages of exciting... [click here for more] | Mini-Komix | $0.99 $0.79 |
| From the creative minds of Dominic Deegan: Oracle for Hire, and Finder's Keepers comes an all new two-fisted, super-powered, raygun adventure. In the far future, on a distant space station, a young astronomer is chosen to weild The Star Power. Now, as the last of the Star Powered Sentinels, she must protect and explore a galaxy more dangerous and woundrous than she could have ever... [click here for more] | GT Comics | $2.99 $0.99 |
| As Megatomic Battle Rabbit explores the green and blue mudball planet that his ship has helpfully stranded him on, two primitive human creatures, science fiction fan Dexter and his friend Henry, investigate a mysterious blue light that fell from the sky. ... [click here for more] | AAM Markosia | $17.99 $6.99 |
| Parody Parade gathers Golden & Silver Age spoofs. Satire on famous comics like Lil' Abner, Buck Rogers, Little Orphan Annie, Flash Gordon, Joe Palooka, Dick Tracy, Mary Worth, Bringing Up Father, Archie, Steve Canyon, Pogo, and Mandrake the Magician. 100 Big Pages of impractical parodies!... [click here for more] | Mini-Komix | $3.00 $0.99 |
| Who can a one man army trust when everyone's trying to kill him? New York Times bestselling writer Tim Seeley (Nightwing) joins superstar artist Brett Booth (Titans) on Bloodshot's road to retribution in the next incendiary volume of the series CBR calls "a fast brutal return for Valiant's action hero." Collects BLOODSHOT #10-12, along with material from VALIANT 2020: THE YEAR OF HEROES FCBD SPECIAL.... [click here for more] | Valiant Comics | $3.99 |
| Rootin Tootin Comic Book Heroes slaps leather with the quickest draws there are from the Golden Age! 100 Big Pages of adventurers, superheroes, cowboys, and crime fighters! Starring cunning characters like: *Fighting Bob Dale *Jet Starr *Lariat Lucy *The Avenger *Golden Lad *Crime Smasher *Bob Allen: Frontier Marshal *The Sub-Zero Man *Target and The Targeteers... [click here for more] | Mini-Komix | $0.99 $0.79 |
| DEATH BY DESIGN! Bloodshot's one man war on his creators comes to a head as the dying Hideyoshi Iwatsu, in a last desperate gamble, subjects himself to the same nanite injection process that created Bloodshot. Transforming himself into a 'Speedshot,' Iwatsu sets out to destroy Bloodshot...personally. From Valiant all-stars Kevin VanHook, Mark Moretti, Don Perlin, Yvel Guichet, Joe St. Pierre and more,... [click here for more] | Valiant Comics | $24.99 $19.99 |
| Armed with the Sword of Light, a powerful suit of armor and advanced technology, David Champion battles the forces of evil! There is battle going on all around us. An unseen war waged against humankind by Demons, Vampires, Zombies and Werewolves. They hide in secret, patiently waiting for opportunities to prey on the innocent and the unknowing. Fortunately, we have a Champion fighting for... [click here for more] | Vamperotica Entertainment | $9.99 $6.99 |
| In our world, there are teams of Crystal Hunters, agents of the mysterious organization Syn. We call them… player characters. They seek to collect the ancient Crystals, which give incredible, inexplicable powers! Only if they roll well on their Crystal Channeling skill. But in order to harness these powers, a person must sacrifice something dear indeed: their own heart. Also,... [click here for more] | Up to Four Players | Pay What You Want |
| Crack open the files of the secret agency known as S.C.O.R.E. with their top agent, Pussycat! The "Secret Council Of Ruthless Extroverts" recruit their curviest(but mostly clueless)spy, who was promoted from being a lowly secretary after they see her overwhelming allure over men. Pussycat slinks her way into the evil organization called L.U.S.T. by going undercover, either by stopping an enemy submarine,... [click here for more] | Mini-Komix | $1.25 |
| Fawcett Publications produced some of the greatest Golden Age superheroes, so get a refresher course with the Fawcett Freedom Fighters! Starring the original Captain Marvel, Captain Marvel Jr., Mary Marvel, Spy Smasher, Ibis the Invincible, Mr. Scarlet, Pinky, Golden Arrow, Phantom Eagle, Nyoka the Jungle Girl, Captain Midnight, Bulletman, Bulletgirl, and Bulletdogl! Say "Shazam" and summon the Secret... [click here for more] | Mini-Komix | $0.99 |
| From the creative minds of Dominic Deegan: Oracle for Hire, and Finder's Keepers comes an all new two-fisted, super-powered, raygun adventure. Having survived the Void Angel's initial ambush, Danica sets out to learn a bit more about her new found powers with the assistance of Dr. Brightman and the Chief. Meanwhile, fearing the wrath of the Void Archangel, the Void Angel pilots... [click here for more] | GT Comics | $2.99 $1.99 |
| Buy a ticket for the greatest show in the galaxy, the Grand Old Space Opera! Sprawling stories of the starways featuring aloof astronauts, moon men, space sirens, futuristic fears, planetary princesses, apocalyptic amore, Martian maidens, dimensional dinosaurs, armored androids, and a history eraser button! 100 Big Pages!... [click here for more] | Mini-Komix | $0.99 |
| Bunny Love bounces to life with comics and artwork featuring vintage burlesk babes! Classic comics like Spotlight On Sally, Cuties, Film Fannie, Katy Of The Chorus, and Glamour Girls, as well as a treasure trove of other "strips"! Showgirls, go-go dancers, milky models, and more shining stars of nightclubs. This cocktail lounge is large and lively!... [click here for more] | Mini-Komix | $0.99 |
| The 4 Pages | 16 Bars: A Visual Mixtape trade paperback series is a celebration of where true diversity exists in this industry, a sampler for potential fans to enjoy unique intellectual properties, a showcase for existing and upcoming talent as well as a source guide for those fans to purchase these books.The hottest, and longest-running anthology focusing on creators of color continues! This... [click here for more] | Griot Enterprises | $24.99 $9.99 |
| In our world, there are teams of Crystal Hunters, agents of the mysterious organization Syn. We call them… player characters. They seek to collect the ancient Crystals, which give incredible, inexplicable powers! Only if they roll well on their Crystal Channeling skill. The border city of Cragtown is home to many poor miners, and to the nobles who exploit them. As the Agents... [click here for more] | Up to Four Players | Pay What You Want |
| When "Little Miss Popular" Ruby Kaye lands a pair of super-tech glasses (invented by brainiac college geek Trevor Goldstein) in a game of Strip Poker, she's granted flight, super-strength, and - due to a flaw in the glasses' programming - super-klutziness! And this is just the beginning of the changes the glasses will wreak on Ruby... Trying to be a super-hero, Ruby stumbles across a mysterious and... [click here for more] | AAM Markosia | $5.99 |
| Fantastic Fanzine Gallery collects original material from fanzines by comic book artists. This includes aliens, valkyries, demons, barbarians, elves, vampires, amazons, monsters, pirates, unicorns, goddesses, jungle girls, samurai, astronauts, ghosts, dragons, werewolves, fairies, cowboys, goblins, superheroes, knights, ogres, dinosaurs, space princesses, witches, and zombies! 100 Big Pages!... [click here for more] | Mini-Komix | $0.99 $0.69 |
| Marc Silvestri's Cyberforce makes its triumphant return joined by the star-studded creative team of Ron Marz and Pat Lee. This volume also includes Cyberforce #0 by Marc Silvestri and David Wohl, plus an original story bridging the gap between the two tales. In the wake of Cyberdata's demise, the heroes of Cyberforce must rise from the ashes and rebuild the team, but nothing is... [click here for more] | Top Cow | $6.99 |
| Shazam Family Giant wants you to "Make Mine Mary Marvel"! Billy Batson's twin sister Mary is revealed to be the Shazam Girl, Mary Marvel! With the powers of six goddesses, Mary joins Captain Marvel and Captain Marvel Jr. as the World's Mightiest Girl! She battles Mr. Power, wicked witches, crafty cavemen, runaway holidays, time travellers, attacking aliens, cunning crooks, and the sinister Sivanas!... [click here for more] | Mini-Komix | $0.99 |
| Long out of print trade paperback, Aphrodite IX returns with a brand all-new painted cover by original series artist David Finch (Moon Knight, New Avengers). Aphrodite IX Trade collects issues #1-4 of the series of the same name as well as the hard to find issue #0 plus incredible bonus art by Marc Silvestri (Civil War: The Initiative, Hunter-Killer), Joe Benitez (Supergirl), and Michael Turner (Superman/Batman,... [click here for more] | Top Cow | $7.99 |
| From the creative minds of Dominic Deegan: Oracle for Hire, and Finder's Keepers comes an all new two-fisted, super-powered, raygun adventure. With Blackhole Bill in custody, Space Station Sanctuary Six now faces a new threat: the Void Archons. While Station Security works to deter the incoming warships, Danica hatches her own daring plan to save her home. StarPower updates MWF... [click here for more] | GT Comics | $2.99 $1.99 |
| Shanhara is dead! Aric once again confronts his bitterest foes, the venomous Spider Aliens. But this time, they don't come to rescue Shanhara, but to destroy her! Will the X-O armor be lost forever or is there a seed of hope… From Valiant all-stars Jorge González, Joe St. Pierre, Paris T. Karounos, Rik Levins and more, follow the complete collected adventures of Valiant's armored Visigoth in this... [click here for more] | Valiant Comics | $24.99 $19.99 |
| Rock'em Sock'em Comics is a tribute to the late fanzine artist, Alan Hanley. The creator of the series Comic Book, and entries into other titles like Sense Of Wonder highlighted the comics underground from the 60s-70s. This anthology features his original characters All-American Jack, Trash Basket, Goodguy, Dick Drake, and The Mitey Buggers.... [click here for more] | Mini-Komix | $0.50 $0.25 |
| Fan Arts Finest has dozens of artwork of public domain comic book heroes and villains. Featuring: Airboy, All-American Jack, Astroman, Black Cat, Blackhawk, Black Hood, Black Terror, Blue Beetle, Bulletman, Bulletgirl, Captain Atom, Captain Battle, Captain Marvel, Captain Marvel Jr., Captain Midnight, Daredevil, The Dart, Defender, Dragon Lady, The Eclipse, The Flame, Gack, Ghost Rider, Goodguy, Grimmley,... [click here for more] | Mini-Komix | $0.99 $0.69 |
| Put a shrimp on the barbie for the best public domain comics from down under in Aussie Komix! Australia's awesome alumni like Phantom Knight, Grey Domino, Jet Fury, Glamour Girl, Sir Falcon, Konga, Grey Thorne, the Australian version of Catman, and the original Captain Atom! 100 Big Pages!... [click here for more] | Mini-Komix | $0.99 $0.69 |
| From the creative minds of Dominic Deegan: Oracle for Hire, and Finder's Keepers comes an all new two-fisted, super-powered, raygun adventure. The long awaited conclusion to the 9th Wormhole arc is finally available! Captured by the Countess Nurak-Nor, the Void Archangels decimated, and even Santuary Six itself apparently destroyed, Danica finds herself with little left to lose.... [click here for more] | GT Comics | $2.99 $1.99 |
| From the creative minds of Dominic Deegan: Oracle for Hire, and Finder's Keepers comes an all new two-fisted, super-powered, raygun adventure. After defeating the dread Countess Nurak-Nor, our hero Danica finds herself in a quandry: Who is she now that the Star Power has gone dark, and she is without her cosmic powers? Meanwhile the sinister space cowboy Black Hole Bill plots a... [click here for more] | GT Comics | $2.99 $1.99 |
| The Shazam Family Giant presents the Mightiest Mortal, the ORIGINAL Captain Marvel! Billy Batson is a boy reporter given the powers of six gods, allowing him to transform into the World's Mightiest Mortal! Captain Marvel saves the day from rampaging dinosaurs, alien invaders, mischievous magic, crooked criminals, and the devious Dr. Sivana! 100 Big Pages!... [click here for more] | Mini-Komix | $0.99 |
| Detective Dames is a spinoff of Daring Dames featuring sexy snoops from the Golden Age of Comics! 100 Big Pages of darling detectives! Gorgeous gumshoes like: *Glory Forbes *Sally the Sleuth *Betty Blake *Jane Martin *Gail Ford-Girl Friday... [click here for more] | Mini-Komix | $3.00 $0.99 |